Don't think twice, come to Sin City for a holiday! Here's 10 things to do for Christmas in Las Vegas.
Christmas in Las Vegas is a season full of magic and holiday spirit all along the Strip, with huge decorations, special events, casino attractions and of course gigantic Christmas trees. There are many things to do in Sin City and here are some of them:
The Bellagio Fountains

Holiday or no holiday, the Bellagio Fountains are one of the most watched shows in Las Vegas, but at Christmas time they prepare an even more special show to enjoy with the whole family, because it is completely free. The performances run daily: 30 minutes from 3:00 PM to 8:00 PM.

Glittering Lights at Las Vegas Motor Speedway

Las Vegas Motor Speedway's 2.5 mile course is illuminated with 5 million LED lights that make up more than 600 animated displays. So you can't miss Nevada's largest drive-thru light show! It opens at 5:30pm and runs from November 10, 2022 to January 8, 2023. Admission starts at $29 per vehicle.

Ethel M's Chocolate Factory Holiday Cactus Garden

There's more than half a million lights draped over three acres of cacti, as well as chocolate houses and sculptures and live demonstrations of Ethel M chocolate creations. The lights are switched on each night between 5:00-10:00 PM from November 5, 2021-January 2, 2022.

Night Flight Over the Strip

Get the most amazing view of the Strip on a helicopter night flight over the dazzling lights of Vegas's most iconic casinos and resorts, as well as historic Fremont Street.

Merry Crimson at Red Rock Resort Casino

It's an annual Vegas tradition, each year the Red Rock Resort Casino transforms its indoor/outdoor poolside lounge into Tinsel Town with the return of Merry Crimson.

Christmas Tree at the Venetian

Make sure you check out the 65-foot tree at the Venetian. It's truly a spectacle to behold, with over 50,000 programmable lights and a nightly light show.

The Bellagio Conservatory

Every year, the Conservatory is decorated with thousands of twinkling lights, more than 28,000 poinsettias, and a spectacularly-decorated Christmas tree that's over 40 feet tall. The tree alone is decorated with more than 7,000 LED lights and 2,500 ornaments! Admission is free and the Holiday display at the Conservatory is open 24 hours a day from November 19, 2022 till January 1, 2023.

Santa in the Shipwreck

Santa sometimes makes a few surprise stops at Mandalay Bay's famous shark reef and aquarium. Watch him don his scuba gear and jump into the shipwreck waters!

Mystic Falls Winter Wonderland

Every December, Mystic Falls transforms into a Winter Wonderland, complete with a seasonal update that includes Santa's workshop, a nightly snow show, and the addition of holiday classics to its laser light show music. Mystic Falls Winter Wonderland is free to enjoy and open 24/7.

Festive Lobby Display at ARIA Resort & Casino

ARIA Resort & Casino brings joy and smiles to those visiting the resort during the holidays. On display is a towering 28-foot North Star that stands in the center of the ARIA lobby, surrounded by larger-than-life crystal shards, flocked trees and a starry night of celestial starbursts above. The North Star is on display 24 hours at ARIA Resort & Casino main lobby, now through January 9, 2023.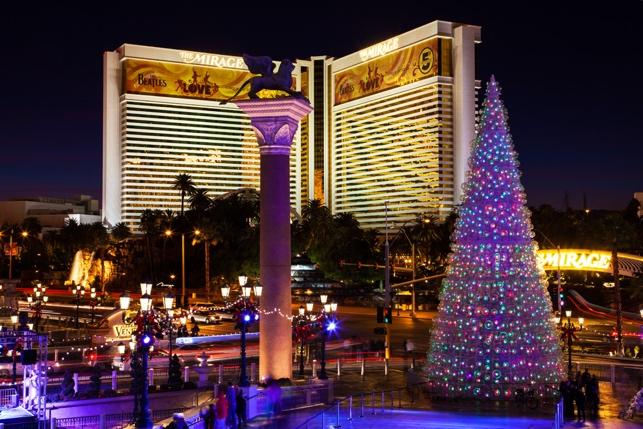 Is Las Vegas expensive at Christmas?
How much you spend in Las Vegas will depend on how much you want to invest, how far in advance you plan your trip, whether you want to visit in high season or low season; however, Las Vegas at Christmas time is completely affordable.
While prices creep during the holidays, the lull between them is historically the cheapest time to go to Vegas. Thanksgiving, Christmas, and New Year's Eve are very heavy travel dates. However, prices tend to drop between these times. As a result, flights tend to be less packed, hotel rooms are likely to be less full, and people are less likely to travel. This is a win-win for you.
Christmas activities for adults
When the kids go to sleep, it's time to enjoy the fun for the grown-ups. In Las Vegas there are hundreds of nightclubs for you to visit:
Drai's Nightclub

Is located at the roof of the Cromwell Hotel. It has indoor and outdoor areas to party to provide you with a greater experience. Unlike many other clubs, Drai has created an identity of its own by giving us live musical performances of the best artists of the moment. It also has a fireworks show that is shot from the top of the place.

Marquee Nightclub

Marquee Nightclub is located at the Cosmopolitan Hotel. Feel lucky because you found one of the best rooms in Las Vegas. It's a first class club, with excellent amenities, spectacular light show and great music. At night the pool area surrounding Marquee Dayclub is connected to the main room of the club, so you can enjoy the pool as well.

Chateau Nightclub

It is located in the Hotel Paris and also offers a rooftop nightclub experience but with the addition of the Eiffel Tower in front of us. It also includes DJ shows combined with live performances.
What is the outfit for Christmas in Las Vegas?
To choose your best outfit for Las Vegas you should think about the activities you are going to do. If your plan is to walk the Strip and see all the Christmas attractions, we recommend wearing comfortable shoes and warm clothes to better enjoy the experience.
However, if you are going to party, remember that Las Vegas has a strict dress code, as you cannot enter the nightclub with sandals and men cannot enter with shorts.
Now you know 10 things to do for Christmas in Las Vegas,enjoy your adventure and come back with recharged energy.